LEI (Law Europe International) is a multi-national network of independent law firms providing legal assistance to clients of its member firms around the world. Dalan advokatfirma represents Norway. LEI was founded in 1992 and is currently connecting over 800 lawyers worldwide. LEI works to increase geographic coverage to meet the requirements of clients who are expanding their international operations or who need advice on proposed cross border developments.
The Real Estate Practice Group of LEI collaborate in matters presenting an international dimension, whether it be sale, lease, construction, town planning etc. – and including public procurements. They can assist you both in the structuration, drafting and closing of transactions and in litigation before administrative and civil courts.
Buying real estate in a foreign country can be intimidating: The customs, practices, and of course laws are likely very different than you are accustomed to. With this in mind: What steps should you take when purchasing real estate in the following countries? You can read all the articles in this newsletter.
In the article below, Dalan's lawyers Ms Benedicte Krogh Grimstad and Mr Håkon Mathiesen discuss the Norwegian system.
---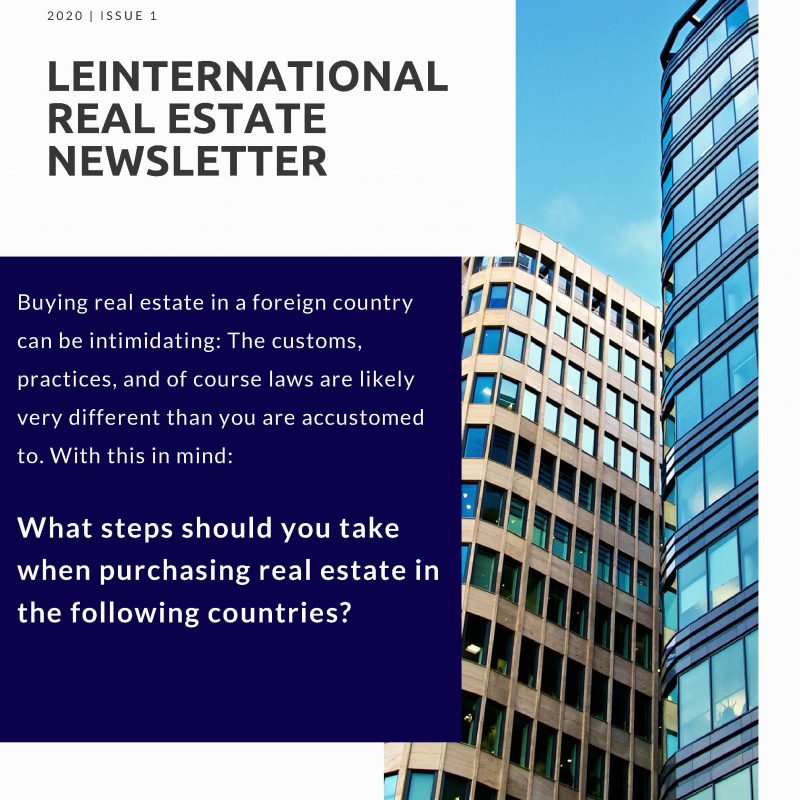 Commercial properties in Norway are usually owned by a legal person as opposed to housing, which is usually owned by natural persons. Norwegian legislation is in general neutral to whether the investment is done by a Norwegian or a foreign natural or legal person.
A commercial property in Norway will in most cases be advertised through a short teaser with information about the property that is for sale, made by a broker on behalf of the seller. The process will then proceed as a structured sale / auction (if the parties have not found each other already) where both parties will engage an attorney, and often a financial advisor. A non-disclosure agreement will be expected, indicative offers and letters of intent / terms sheet are widely used, before a subsequent due diligence is performed, before the negotiations on the contract will start. When purchasing a commercial property, standard real estate agreements are used in most cases (Meglerstandarden). The information provided in the preliminary period will usually include the prerequisite that this contract be used. This standard is known to all attorneys and financial advisors, and is widely accepted as the best starting point for further negotiations.
Even though this is a standard agreement, there is always a need to tailor it for each specific transaction. The standard is available in Norwegian and English.
Limited liability companies are commonly owners of commercial properties. The shares may then be transferred instead of the title deed. Since there is no registration of a new deed and owner in the Norwegian Mapping Authority, the stamp duty of 2,5% of the property's market value is thereby saved.
For housing to private individuals, the house will usually be advertised through a real estate agent. He / she has a legal duty to ensure the interests of both seller and buyers in a private transaction. There is also a background law with many invariable rules, so there is little room for negotiation. It is therefore uncommon for private natural persons to engage their own attorneys to review the contract.
The purchase of real estate is also subject to a license obligation (konsesjon). Usually this is just a formality. For large estates and agricultural, forest and hunting estates, it will be useful to engage an attorney to write the application. For smaller housing properties it will often be enough to sign a form of exemption from the license obligation that will be filled out by the real estate agent.